Here, at Sky Blue Credit, we're passionate about a number of things — and credit restoration, quick credit repair, and identity theft repair are just a few of them. In addition to caring about the well being of our clients and their credit, it just so happens that we, like most people, are quite keen on brunch.
Despite our love of brunch, though, we are well aware of the fact that this mid-morning treat is often far more appealing to our taste buds than our bank accounts. From mimosas and specialty coffee to gourmet Belgian waffles and veggie-filled quiches, it's no secret that brunch costs add up quickly, leaving our stomachs much fuller than our wallets.
But we were curious — does brunching really have to break the bank? Or are there places where it's more affordable to indulge in this breakfast-lunch hybrid? With these questions in mind, we decided to determine the cost of brunch in cities across the country. Want to know how your city fared? Read on to find out!
---
Table of Contents
The Most and Least Expensive Cities for Brunch
The Most and Least Expensive Cities for Brunch Mimosas
The Cost of Brunch: How Does Each U.S. City Compare?
Methodology
---
The Most and Least Expensive Cities for Brunch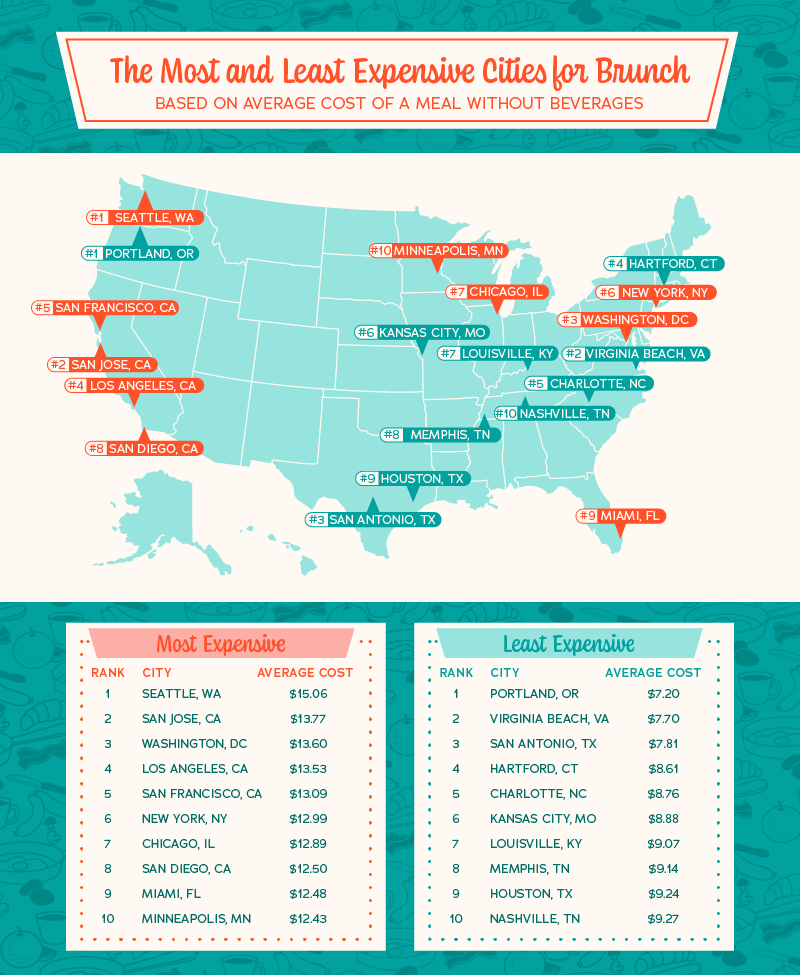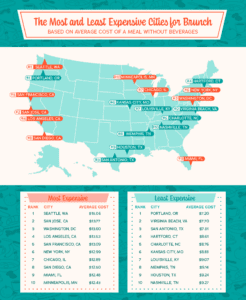 ---
Ready to get down to brunch business? We thought so.
In regards to the most expensive cities for brunching, Seattle, WA, San Jose, CA, Washington, DC, Los Angeles, CA, San Francisco, CA, and New York City, NY, all make the cut, with brunch averaged in the $13 to $15 range.
And for the most part, we're not surprised by these findings. San Jose, Washington D.C., San Francisco, and New York consistently earn a spot on the priciest cities in the country lists, so their steep brunch averages make sense. Plus, it's safe to say that neither L.A. nor Seattle has a reputation for being cheap. So if you're a brunch lover living in one of these cities, it might be time to consider upping your brunch budget.
Prefer not to break the bank on your first meal of the day? Fortunately, there are several cities with much more affordable brunch prices. In Portland, OR, Virginia Beach, VA, and San Antonio, TX, for example, it's not uncommon to get out for under eight bucks, or about half of what you should expect to pay for a comparable brunch in Seattle.
---
The Most and Least Expensive Cities for Brunch Mimosas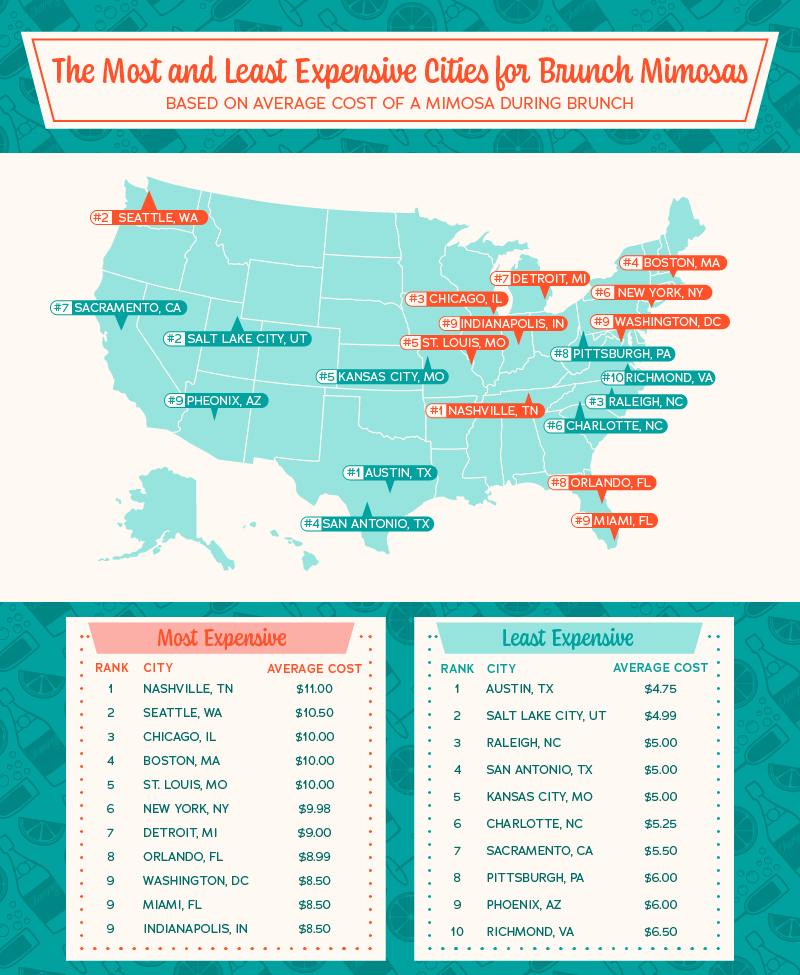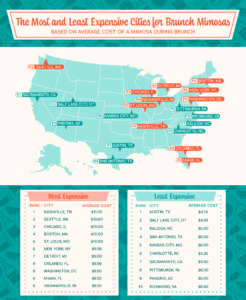 Would this really be a brunch study if we didn't look into mimosa costs across the country? We think not.
Prefer to order a mimosa at brunch? we suggest staying away from Nashville, TN, Seattle, WA, Chicago, IL, Boston, MA, and St. Louis, MO, as these are among the priciest cities for mimosas in the country. Even when your food itself doesn't break the bank, mimosas — which often go for $10-$11 a pop in these cities — will.
So where are the affordable mimosas, you ask? Well, we would like to propose a toast to Austin, TX, Salt Lake City, UT, Raleigh, NC, and San Antonio, TX, all of which have an average mimosa cost of $5 or less.
---
The Cost of Brunch: How Does Each U.S. City Compare?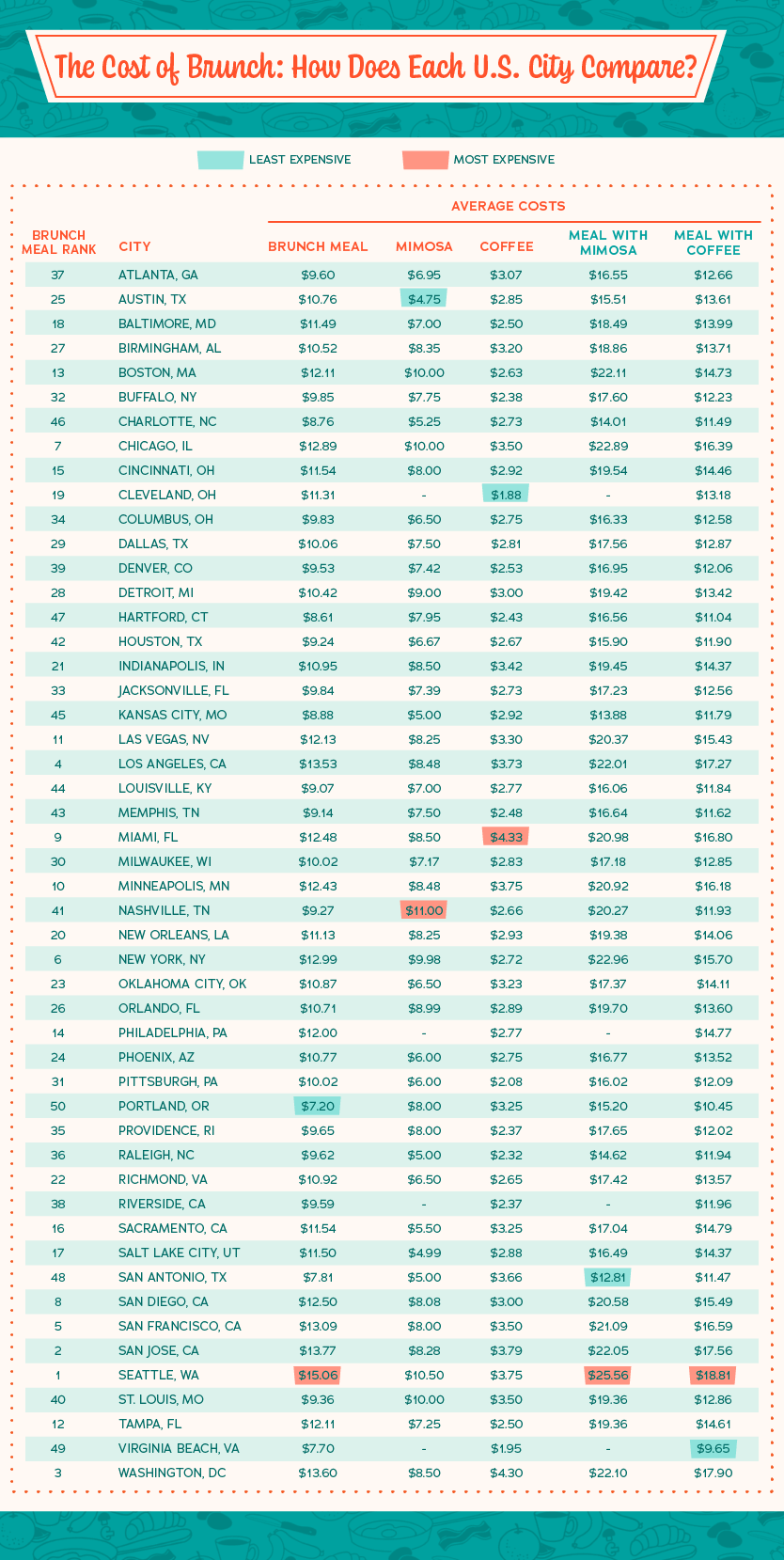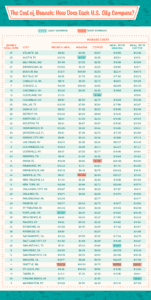 If you're a coffee drinker, it might be time to pack your bags and head to Virginia Beach, VA, which offers the least expensive brunch average in the country for coffee drinkers. If you'd rather sip on a mimosa at brunch, though, San Antonio, TX is the most affordable option.
But regardless of whether you prefer coffee, a mimosa, or both with your brunch, be sure to steer clear of Seattle, WA where average brunch costs are in the $18 to $25 range. Trust us, your wallet will thank you.
Now that you have the scoop on brunch costs around the country, we'd love to hear from you. Where are you from? And how much do you typically shell out for brunch?
---
Methodology
We looked at the three most-reviewed brunch spots in the 50 largest metropolitan areas in the U.S. We checked their menus to price the classic brunch favorites: eggs benedict, pancake combos, salads, mimosas, and coffee. To find the meal cost, we averaged the cost of the meal items on these menus. Similarly, we averaged the cost of a mimosa and coffee to find each of those respective costs by city.